it's becoming easier and easier to wake up before the sun and i love it so very much. especially now that i have a fluffy robe because waking up before the sun and then being cold is the worst. but waking up before the sun, wrapping myself up in my robe, and then shuffling out to the kitchen to latch my arms around eggboy while he pours berries into an overflowing pot of steel-cut oats is my favorite way to wake up these days*.
*(these freakishly crazy days that begin with frost on the ground and end with piles of leftovers and more dishes than will fit in our dishwasher.)
so it's good freakishly crazy.
i cooked venison for my new friend sam last night. well, correction: i coated venison loin with grey salt and smoked cinnamon, seared it a bit, took a shot of whiskey, and then had him help me with the rest, because the rest is what scares me. we finished it in the oven, drizzled it with its juices, hit it with more cinnamon, and then ate it with lefse and egg mama's tater tot hot dish. a table full of eggs and a wonderful crew from the times, eating supper in our little farm house (!!!!), i wanted to capture the moment and put it in a snow globe.
so this weekend, after last week in new york and this week working with sam and his crew, life goes back to wedding planning and cake making and treadmilling in front of cupcake wars. soon there will be snow on the ground and one night i'll catch up on homeland, but i guess today is halloween so tonight is not that night.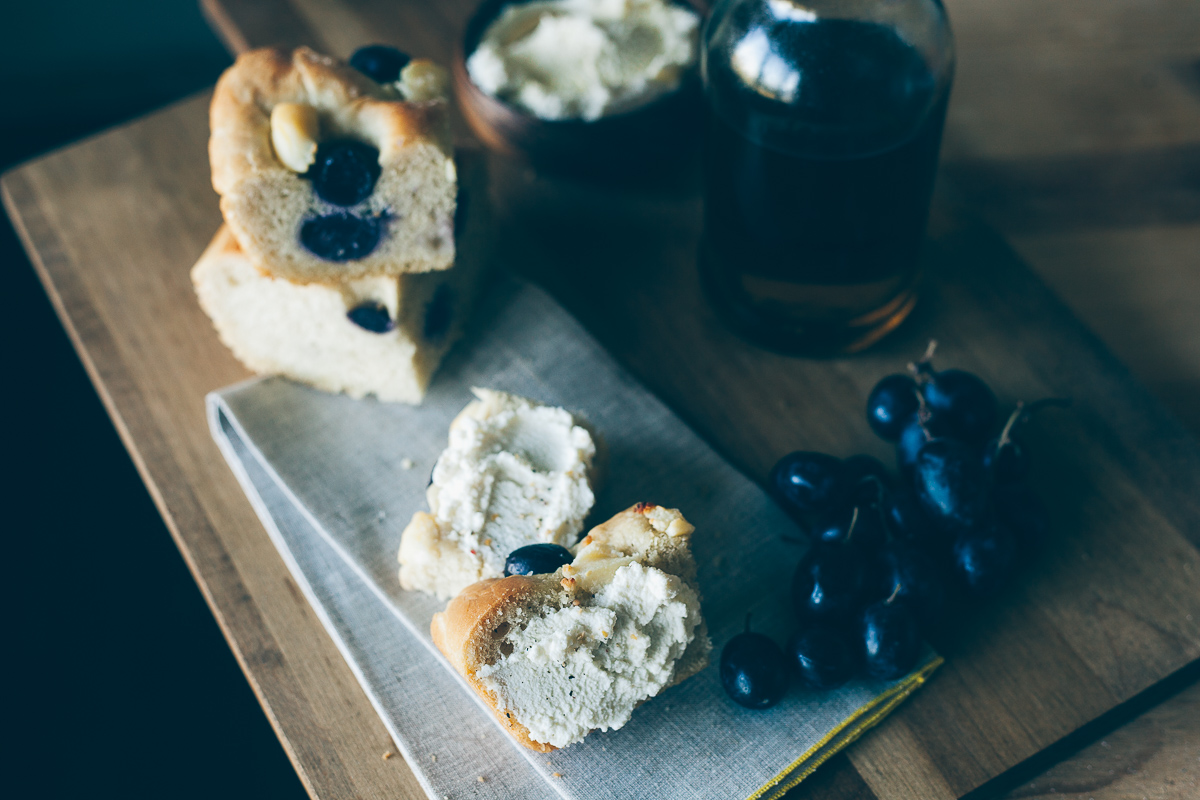 grape + ricotta focaccia
makes one large loaf
ingredients
1 3/4 c warm water
1 packet (2 1/4 tsp) yeast
3 tb sugar
5 c flour
1 tb kosher salt, plus more for sprinkling
1 c olive oil
1 1/2 c california grapes
3/4 c ricotta
clues
combine water, yeast, and 1 tablespoon of sugar in a small bowl and let it proof.
in a large bowl or bowl of a stand mixer, combine flour and salt. add 1/2 cup of olive oil and the yeast mixer to form a dough. knead for 7-10 minutes until it is no longer sticky, adding more flour as needed.
transfer to an oiled bowl, cover with a damp towel, and let it rise until doubled in size, 1-2 hours.
pour most of the remaining oil into a 9-inch by 13-inch casserole dish, reserving a few tablespoons for drizzling on top of the dough. divide the dough in half and press one half into the dish to cover the bottom. sprinkle the top with 1 cup of grapes and the remaining 2 tablespoons of sugar. flatten out the remaining half of the dough and place it on top, sealing in the grapes. scatter the remaining 1/2 cup of grapes on top of the dough, and dollop spoonfuls of ricotta on top as well. sprinkle with salt and remaining olive oil.
let rest for another hour. preheat oven to 425. bake for 25-30 minutes, until golden brown. slice into squares, spread with more ricotta if desired, and enjoy!