you want to hear something super crazy town?? sugar beet harvest is almost dunzo, making it one of the best harvests in recent history!! typically, weather will really draw things out, making the beeties too cold or too hot or too wet or too dry, causing the boys to work through the end of october. but aside from a little pause last week when it snowed (!!!!!!!!!!!!!!!!!!!), they've been out there for 24 hours a day to pull them puppies out of the ground, and they are almost all out!
do you know what this means??1?1?!!!!! we finally get to watch the season premiere of homeland! and i can once again split the dishes duties with someone. and we can get caught up on wedding planning. and i can have a real reason to make real dinner since when it's just me, dinner is too often cheese on toast, salami on toast, toast on toast, a corn dog, or cookies. ¯\_(ツ)_/¯
i am so excited.
i've started to plan the end-of-harvest party, which somehow has to top last year's, which took place at the one n only. it's gotta be meaty because it's for a bunch of dudes that drive trucks and harvesters and tractors. dessert is the easy part though, because it's got to involve these here red velvet cakies, from izy's magnificent book. (cookie + cake = cakie). when i made them last week, i had one bite and knew that if i didn't give them away immediately, they would become breakfast, lunch, and dinner. they are the most addicting thing i've made in a very long time. so i brought some out to visit eggboy and gave them to all of the truck drivers and they went gaga over them. so soft, so perfectly red-velvety.
i wouldn't expect anything less than izy though. she is a gem and i've been a fan of her blog, top with cinnamon, for a while now, not just for the recipes, but also for a glimpse into the life of a high schooler in london. (whatever "a-levels" are, they sound mega intense.) we met at the saveur awards in may, and she is just as delightful as you'd expect from reading her blog. she even followed all the funny american drinking age rules and didn't drink a sip of booze despite the fact that a whiskey maker sponsored the thing and despite the fact that i offered to sneak her some when no one was looking. classy lady, that izy. who also knows when to use jazz hands.
so her book, i love it. the dishes are flavorful in new-to-me ways, sophisticated without being stuffy, and earthy with a nice dose of comfort. at first glance, i thought i'd have to google some things (like "is aubergine an eggplant? or is that zucchini?") but then i saw that it's all specified in the fine print and it made me really happy and want to have a british accent. this book is heavy on the sweets and baked goods--which, naturally, i love--and there are also some savory beauties, like the sweet and sticky pork, which i have made multiple times now and each time i've licked that sauce right out of the pan.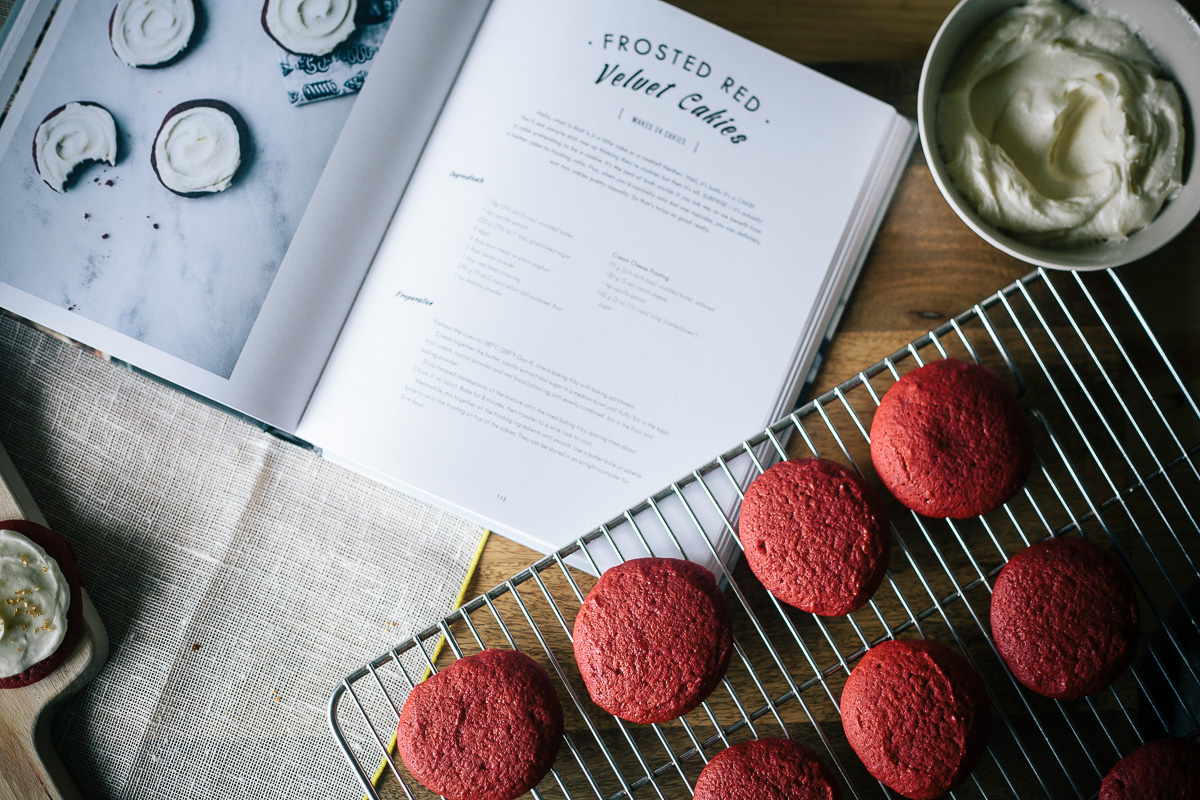 if izy were american, i'm convinced that these cakies would have turned out as whoopie pies. they have a very similar texture, and truth be told, i might have sandwiched a few together to eat, mostly so that i could get more in my mouth at once. i do like the open-facedness of them though because that calls for sprinkles, and as izy points out, a better cake-to-frosting ratio. they're dangerously good, so when you make them, be sure that you have a few friends on call to come over and eat some so you don't eat them all yourself and get a bellyache.
frosted red velvet cakies
from top with cinnamon
[makes 24]

ingredients
1/2 c (110g // 3 3/4 oz) unsalted butter, softened
1 tsp vanilla extract
1 c (220g // 7 3/4 oz) sugar
2 eggs
1/4 c sour cream or plain yogurt
2 tb cocoa powder
1 tb red food coloring
2 c (250g // 9 oz) all-purpose flour
1 tsp baking powder
cream cheese frosting:
6 tb (75g // 2 1/2 oz) unsalted butter, softened
5 oz (150g) cream cheese
1 tsp vanilla extract
1 1/2 c (150g // 5oz) powdered sugar
clues
preheat oven to 350f (180c // gas 4). line a baking tray with parchment. cream together the butter, vanilla extract, and sugar in a medium bowl until fluffy. stir in the eggs, sour cream, cocoa powder, and red food coloring until evenly combined. stir in the flour and baking powder.
drop heaped tablespoons of the mixture onto the lined baking tray, spacing them about 1 inch (2.5 cm) apart. Bake for 8 minutes, then transfer to a wire rack to cool.
meanwhile, mix together all the frosting ingredients until smooth. use a butter knife or palette knife to swirl the frosting on top of the cakies. they can be stored in an airtight container for 3-4 days.