sugar beet harvest starts at midnight tomorrow, my pops gets in tonight for a quick little visit, and we have just passed the three month mark until our wedding!! here is what this calm before the storm looks like:
a very very large pile of laundry, removed from the bed in our guest room and plopped somewhere else, so my dad can sleep there.
lots of wedding post-it notes taped above my desk that read things like "sprinkles, [personalized] egg cups (?), local whiskey"
the most delicious wash of cloudy light falling so perfectly into the kitchen on our newly swept floors interrupted only by the tick of the toaster (because there actually is a literal storm coming...)
all of these storms are going to be great storms.
mark my word, i am quite excited for sugar beet harvest this year. last year was unfathomably crazy because it was my first one, i was working hours that were completely opposite of eggboy's, and some of the fields were wayyy far away. like canada far away. but now i'm a seasoned vet, and the fields with the beets are just down the road, so if i want to bring eggboy some pumpkin loaf or go say hello, i can do that easy peasy. and as for the wedding, lots of the big decisions have been made, so now i'm working on really fun things like: what color sprinkles should we have our guests chuck at us as we recess down the aisle? and would my bridesmen like whiskey or gin in their welcome basket? and are shoes with panda faces on them at all ok to get married in???
and obvi can't wait for my pops to get here! we're gonna book it to the one n only and i'll probably make him go on a tractor ride and take a bite out of a sugar beet. weeeee!!!!!
so this all calls for cake! of the pan variety. but make it dainty, so: crepe. and because whenever i ask eggboy what i should make next, he responds with a rhyme (see: saskatoon macaroon), let's make a grape crepe.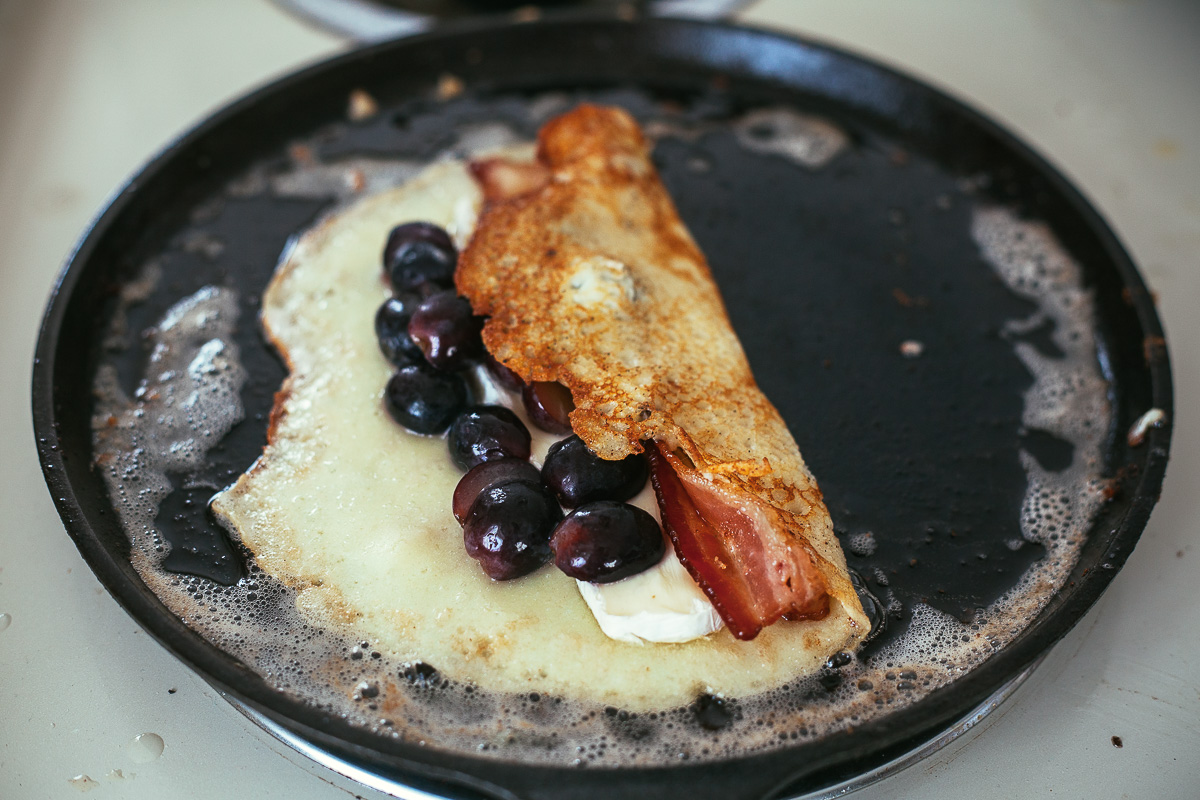 these crepes are salty, sweet, bacon fatty, and earthy. they're gooey, crispy, fluffy, and bursty (or whatever the texture of grapes is). and they contain all of the major food groups except for vegetables. you could throw a caramelized onion in there though, that would be good. you know what else would be good would be to infuse the milk with rosemary or something cool like that before adding it to the batter.
grape crepes with brie and bacon
makes 6
ingredients
12 strips thick cut bacon
1 c flour
2 tb sugar
3/4 c milk or buttermilk
1/2 c water
2 large eggs
butter
6 oz brie, thinly sliced
1 1/2 c california grapes, halved
clues
crisp up your bacon and reserve the fat. set the bacon aside while you make the crepe batter.
let the fat cool slightly, measure out 3 tablespoons of it, and whisk it with the, flour, sugar, buttermilk, water, and eggs. you could also do this in a blender. cover the batter and refrigerate for 1 hour.
heat some butter in a skillet over medium high heat. add 1/2 cup of the batter and tilt the pan so that you get a large even circle. cook for a few minutes until the top is set. place brie, 2 slices of bacon, and 1/4 cup of grapes in the center, cook for a minute or two so that the brie starts to melt, and then fold the two sides of the crepe in towards the center. serve immediately or keep it in the oven (set on warm) until ready to serve.
repeat with remaining batter, adding more butter to the pan as needed, and enjoy!