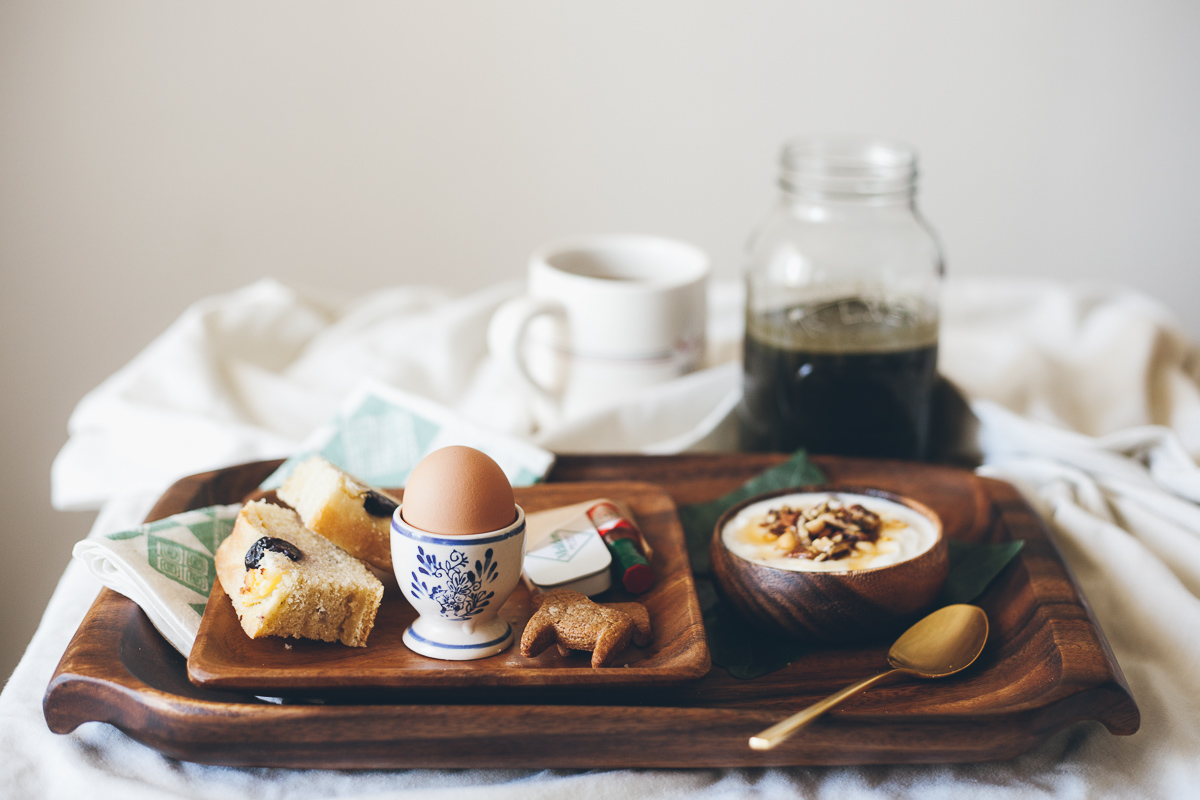 can i tell you something that might make you throw up in your mouth a little bit? i made breakfast in bed for eggboy a lot during harvest. multiple times a week. really elaborate and adorable ones complete with miniature things and cute flatware.
his schedule was all wonky since he had to work into the wee hours of the morning and sleep until 11 or noon. i thought about switching my schedule too, but with the shorter days and less sunlight, i usually needed to wake up at my regular 7:55ish in order to get my ducks in a row and ready to be photographed. so at some point between the hours of when i would wake up and when he would wake up, i'd often decide that it would be fun to do a thing i love most: arrange cute little meals on a cute little tray, just like i used to every year for mum's birthday...
speaking of mum's birthday: it's tomorrow!!!!! yayayayay! i sent her a copy of steph's book that eggboy and i annotated with fun notes pointing out our favorite recipes and pictures. and it's no coincidence that i'm posting this the day before her birthday in case anyone in chicago (hint hint, stoop) is reading this and wants to make her breakfast in bed.
so without further ado...
the anatomy of a perfect breakfast in bed
something sweet: a cookie, a bite of nougat, a shot of cake batter. the best days start with a little something sweet.
carefully packaged liquids: coffee mugs that aren't too full, juice in a jar with a lid, a traveler mug, hell, a juice box. sleepy people are clumsy people. sleepy people in beds are really clumsy people.
extra napkins or a towel: just in case.
condiments and seasonings: to be perfectly honest, my little tabasco bottles and maldon tin and baby bon maman jars are a disproportionately large reason why i love making breakfasts in bed. they give me a cute attack every time i look at them. and they're obviously useful because if you actually think that any mother of mine would eat an unsalted, un-hot-sauced egg, even if it were delivered to her in bed, you are cray.
things that don't take too long to make: do you know how awful it is to be mid-breakfast-in-bed-prep and have the person you're making it for wake up and walk into the kitchen? mega awful.
things that aren't too noisy to make: this is an obvious one. be mindful of kitchen timers, blenders, coffee grinders, and those god-awful microwave beeps.
in this breakfast in bed, we have: grape ricotta focaccia (recipe coming soon!), an egg, dala horse cookies, tabasco, maldon salt, yogurt with nuts and honey, green juice, a nell & mary napkin, a little gold spoon, and obviously coffee.
that tray, plate, bowl, and jar are all part of a special breakfast in bed set from pacific merchants, and guess what-- i'm giving one away!!!! yayayayayayayyyyy! to enter this giveaway, leave a comment with your ultimate breakfast in bed! (open to u.s. residents only.) update: this giveaway is now closed.