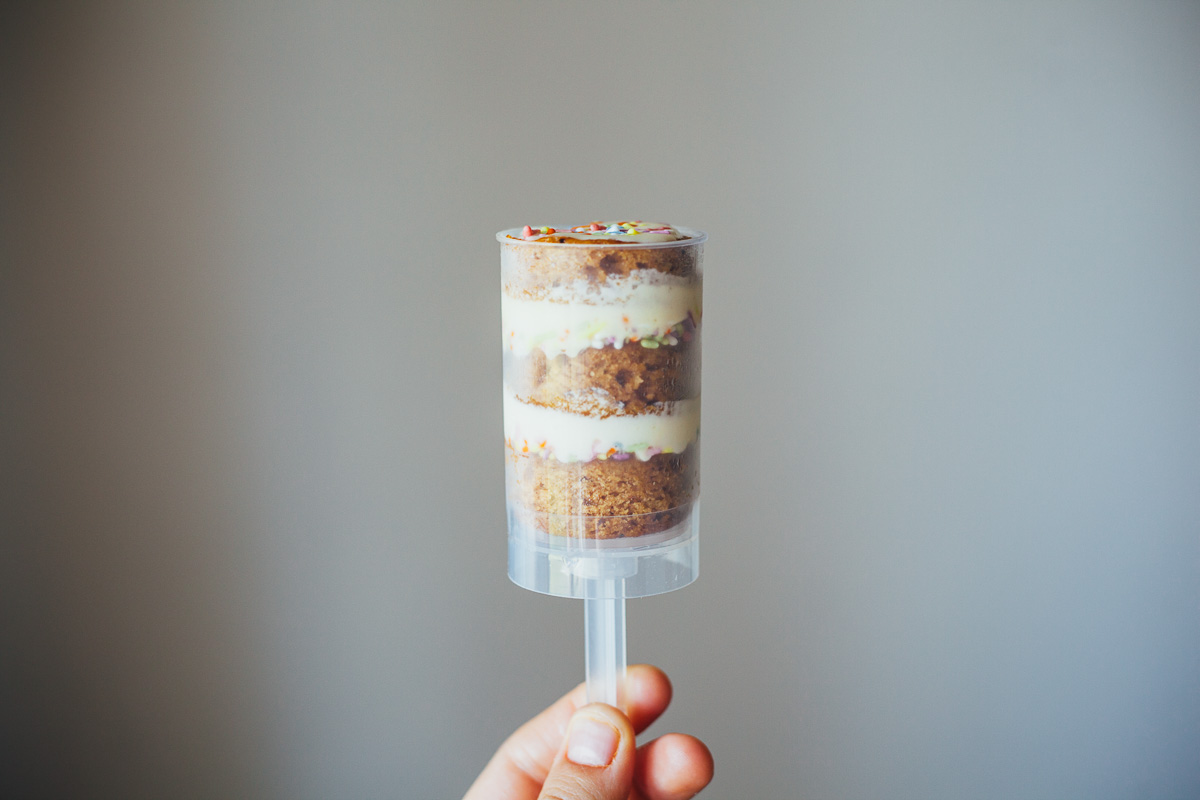 push pops are a fall seasonal food, right? because soccer games? or was that exclusive to my suburban world? i just seem to have all these bowl-cut-wearing memories of running around in the fall with my little shin guards and cleats on, probably losing to the other team, and then not caring at all because look, the ice cream truck, and heeeeere come sticky fingers fingers from a flinstone's push pop. those things were *in my worst falsetto voice* the best. i remember having to warm them between my hands a little bit so that they would loosen up out of their cardboard tubes and then i would demolish them and take apart the tube device and play with the different parts. they were fascinating. v v fascinating.
so now that i'm a sophisticated fancy lady, these guys have gotten sophisticated and fancified by way of ice cream's quirkier cousin, the semifreddo, and soft autumny pumpkin (!!!!) cake. these push pop molds are fun little creatures and i wanted to do them justice by making something that really takes advantage of their clear cylindrical nature. any sort of mini cake would be cute in these, but a semifreddo-filled mini cake, which probably wouldn't stand that well on its own or assemble that easily, has found a perfect home in this mold. the cake will hold its shape neatly, you can peek at the little layers (hello!), and you can keep them in your freezer for whenever you have a cake and ice cream emergency.
ingredients
cake
1 3/4 c flour
1 tsp baking soda
3/4 tsp salt
1/2 tsp ground cinnamon
1/2 tsp ground nutmeg
1/4 tsp ground cloves
a pinch of ground ginger
1 3/4 c sugar
7.5 ounces (or about 3/4 c + 2 tb) pumpkin puree
2 large eggs
1/2 c vegetable oil
1/3 c water
semifreddo
4 large egg yolks
1/4 c + 2 tb sugar
1 tsp vanilla
a pinch of salt
1/2 c heavy cream
assembly
sprinkles
clues
make the cake: preheat oven to 350, line two 9 x 13 pans with foil and grease the foil.
in a medium bowl combine flour, baking soda, and spices. in a large bowl, combine remaining ingredients. mix in the dry ingredients, pour into prepared pans, and bake. begin checking for doneness at about 20 minutes.
let cool, wrap in plastic wrap, and then freeze until ready to use, up to one week.
make the semifreddo: in a double boiler, whisk together egg yolks, 1/4 cup of sugar, vanilla, and salt. heat over simmering water, whisking constantly, until it reaches 160 degrees. transfer to an ice bath to cool.
whip up the heavy cream. gradually add remaining 2 tablespoons of sugar once the cream gets thick. whip to stiff peaks. gently and gradually fold this into the yolk mixture.
assemble: cut out 1 1/2-inch circles of cake. layer them in your push pop molds with sprinkles and 1-2 teaspoons of semifreddo between each layer. freeze for a few hours. enjoy!
sponsored by: laguna wholesale, sellers of all sorts of dessert-related goodies! you can use the code "grateful5" to get 5% off of your first order!